Shopping >
Houmei Liquor Store (Tomo Sake Brewing)
Shopping
Houmei Liquor Store (Tomo Sake Brewing)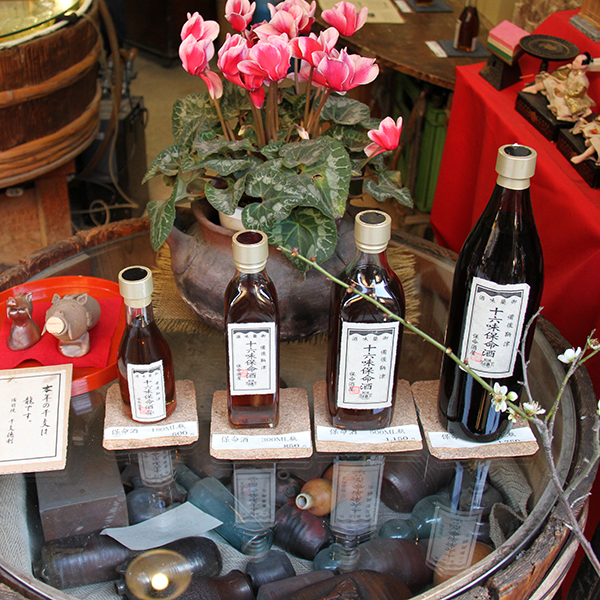 Kichibei Nakamura who was a Chinese medicine doctor in Osaka had flood damage in 1653, and after that incident, he moved to Tomonotsu where his friend lived. And in 1659, he produced "Houmei Liquor" in Tomonotsu. Currently, there are four Sake breweries includes brewing and manufacturing of Houmei Liquor where handed down from Nakamura family. And "Houmei Liquor store" is one of those four. The pleasant store is renovated the part of Ota Family house, and for sure, the owner's warm smile will make you step in to the store.
伝統を真摯に受け継いだ「十六味保命酒」

伝統を真摯に受け継いだ「十六味保命酒」
麹・もち米・焼酎に16種の生薬を漬け込んだ保命酒。この「鞆酒造」さんでは、てらいのないガラス瓶入りの保命酒が何をおいても看板商品。
そのほか、ご主人・岡本純夫さんが店内でろくろを回して焼き上げた豆徳利入りの保命酒も、お土産にはぴったり。

◇「十六味保命酒」900ml/1750円 ◇500ml/1150円
◇300ml/850円 ◇180ml/500円
歯ごたえもよく風味も抜群―鞆酒造のおいしい酒粕

歯ごたえもよく風味も抜群―鞆酒造のおいしい酒粕
もともと栄養素に富んだ食品として美容や健康にいいと話題の酒粕ですが、生薬の成分を含んだ保命酒の酒粕となると、その効果もさらに期待できますね。
歯ごたえや風味も抜群で、粕汁や粕漬けなど、さまざまな料理に大活躍のおすすめの一品です。

◇「保命酒粕」250g/250円
Share:「Houmei Liquor Store (Tomo Sake Brewing)」
Basic information of 「Houmei Liquor Store (Tomo Sake Brewing)」
[Place]
1013 Tomo, Tomo-machi, Fukuyama-city, Hiroshima
720-0201
TEL: 084-982-2011 FAX:084-970-5375
[Date / Time]
Open every day from 10:00a.m. to 5:00p.m.